Tuesday Morning Produce Market and Yancey de Veer Singing Lyin' Mayans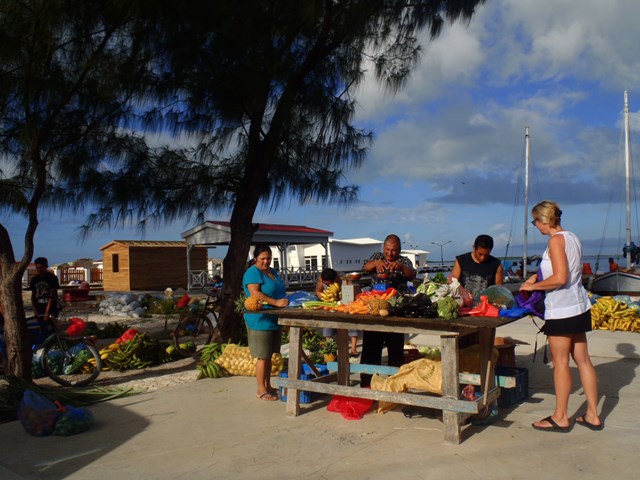 Selection and quality are two good reasons to try the the Tuesday morning market on the lagoon. I will say the pricing is not always cheaper, but it is still worth going. You will never know what you will find and the produce is nice and fresh for the most part.
This week they had a good mix of fruits and vegetables. I got a big cauliflower for $10.50 sold by weight at $3.50 BZD a pound. Mary's cilantro was $1.00 cheaper than she paid in town last week and very fresh. The thing that caught my eye the most was a box filled with plastic containers of juicy looking strawberries, I knew they would be pricey and at $13.00 BZD I was right.
I just found out from his lovely wife Gretchen that they are staying another week. So Yancey will be playing Friday at Pedro's and Sunday afternoon for the grand re-opening of Caribbean Villa's Beach Bar, Catamaran on Jan 19th. A fulfilled mix of classic rock, folk music and cowboy songs, Yancey de Veer is worth seeing.
I am including Yancey singing Lyin' Mayans at tacoboys request as that was the one song he said he hoped I had got good video of from when he played at Fido's on Sunday.