Sunny and Very Busy San Pedro Saturday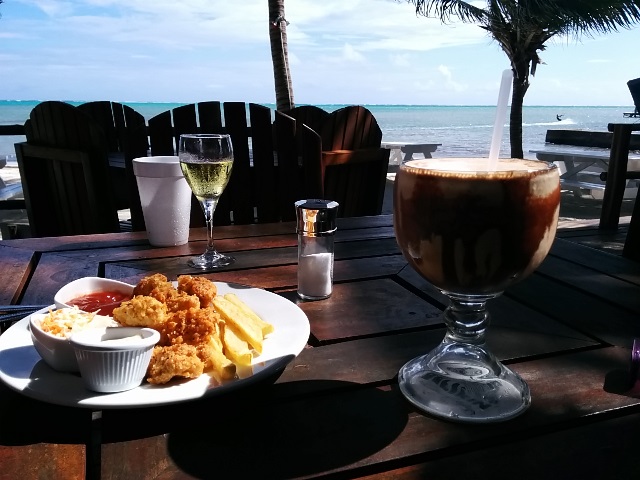 Yesterday was a fun filled active day. On Friday when I stopped by Catamaran Beach bar, Ruth had told me I needed to come back and try the iced coffee with alcohol in it so I decided that would make a nice Saturday morning treat before going to the Island Art and Craft the art show.
When I got there Leisa was enjoying a glass of wine and had already ordered. As soon as I saw her plate, I told Luis I wanted the same. I had the alcohol version of my favorite iced coffee since Island Perk included Bailey's and Kahlua – it was yummmy. While we were eating we got to watch a kite surfer practicing. He was really good and we were both amazed at his stamina as he zipped back and forth past us.
The Art show for Women in need at Xanadu Resort was well worth stopping by, they had so much amazing art work and crafts. I feel in love with Mr Yum Yum and bought some raffle tickets to try and win him for Tinker. The drawings are today and the sale is on till 5:00pm so you still have time to stop and shop for a great cause. They even have delicious beverages to enjoy wile you are shopping. After the art show we did the Bird Sanctuary walk, Leisa who does not care for heights either managed ok and I had forgotten how much fun it is to go through the big Banyan Tree at the end. I do it again soon and take pictures, this time I just wanted to focus on all the beautiful art on the pictures below.
After the art show, we were walking down the beach to go to meet Cowboy & crew Pedro's and we decided a pit stop to see Margie at the Seahorse Lounge at Corona del Mar Hotel. A bit of San Pedro synchronicity, Cowboy Doug, Yancy and Gretchen had changed locations and were sitting at the bar when we arrived 🙂 We enjoyed a drink and some Margie time. More San Pedro Synchronicity, tacoboy who I had texted earlier to update him on what I was doing turned up at the exact perfect time to give me a lift home – I was not expecting him to finish work so early.
We both had time for a one hour cat nap then it was off to Cindy's for Fred Flintstone style ribs from Sausage Factory, they were fall off the bone good. Knowing today would be a big day we all decided to call it an early night.
Today is the last Sunday at BC's it will be fun stopping by to see who is there and share some good memories. Also going on Yancey de Veer will be playing at Fido's from 1:00pm onward. We plan to go to both I can't wait to hear Yancey sing, I know he will be good.