Celebrating Cold Weather in Belize and our 8th Ambergris Caye Island Anniversary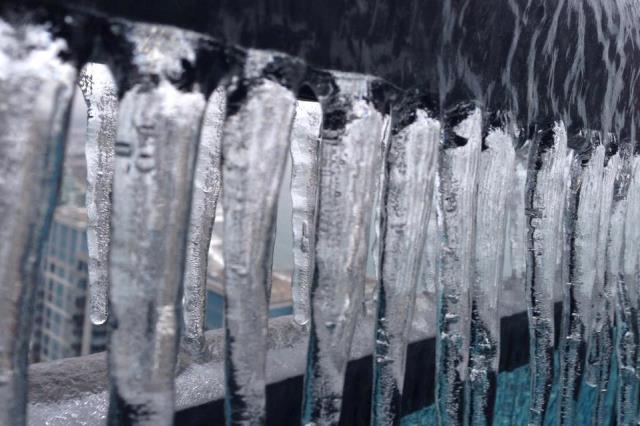 The best way to somehow manage to celebrate the cold weather we have been experiencing is to appreciate those who have it worse from afar. I have been getting some very serious reminders of that lately with some snow and great ice storm pictures. No matter where you are the pictures below will not make you any warmer, but neither would a pic from here if I had snapped one this morning, the gray sky would have been a good match to the icy cold.
The first series if icicle pictures are from Matt who is here now with his girlfriend Sara and dog Johnson. While they were getting ready for their visit, the big ice storm hit Ontario and Matt was one of the people keeping me in the loop about huge loss of power and how Johnson had to postpone his last vet appointment before traveling due to power outs caused by the weather. They all deserved a tropical get away in Belize after the full on ice storm experience.
He keeps telling me I look like a gumshoe (An old slang term for a detective or investigator) wearing my trench coat because it is so cold 🙂
This short write up below and next series of pictures come from Scott Beloff who can't wait to get here with his wife and kids and is experiencing a cold New York winter. His pictures make me really happy to have spent the last 8 winters living on a tropical island. And although this one has been colder than I remember in a while, I would gladly deal with it any day over snow.
The first picture below is Old Country road in Hicksville NY. It's where I work for the largest utility in the northeast. . . .it's 10 degrees real feel outside right now. . . . we are expected to get anywhere from 6 to 10 inches over the next 14 hours. . . It's suppose to get down to 3 degrees with the wind chill factor tonight. . . . They are closing all of the major roads here tonight at midnight. . . . . I fell in love with AC 12 years ago. . . .we met some great people including. . . . Island Dog. . . I learned to sail at TMM boat charters next to Ramon's village. . . . . Michel who is the brother of one of the owners of TMM was so friendly. . . . I was so thrilled with my multiple sailing adventurers aboard one of their trimarans, I gave him a gift of a tee shirt from local surf shop here on Long Island. . . He was so appreciative he gave me a huge discount on my time with their equipment (something that doesn't happen here too often) . . . . I started to like hot sauce after tasting Marie Sharps hot sauce and I get it shipped by the case to my house twice a year. I have a beautiful painting from local artist Marcos Larios in my living-room. . . .it's been my reminder of AC since my departure. . . .I've wanted to get back to AC ever since my last day there 12 years ago. . . That brings us to 2014. . . . 2 kids now and too many years have past. . . I needed to get back, so I'm treating myself to my favorite beach vacation. . .my family and I land on my 50th birthday. . . .the sights should ease the pain of the big five-o. . . . Scott Beloff
This last batch of super cool ice storm pictures comes from my brother in Strreetsville Ontario. Now if any of the cold pics I have posted today could make me almost want to see winter again up close for a few minutes, it would be these next ones. I love how they sparkle.
Another cause for celebration this past week, we just had our 8th anniversary of moving to Ambergris Caye island. With Mat and Sara being here from Toronto to visit Karen and the raptors game being on, Paul arranged our anniversary date to include them and NBA League pass at Lola's. I did not mind and was happy to enjoy pulled pork sliders and a rum and cranberry. Afterward we all went to DandE's and Matt treated us to ice cream. On the way home we stopped at Pedro's for a few minutes so Paul could ring the bell and I could wish Peter Happy Anniversary as well – he turned up here the same day only a few years earlier.