Saving you Money in San Pedro, Belize
Whether you are planning your vacation to Ambergris Caye or already live in San Pedro – tacogirl specials can help you save money by offering great Belize vacation deals.
Please email tacogirlbelize@gmail.com to arrange for your discount.
tacogirl specials are not valid in combination with any other special offer or discount. Please allow enough time for arrangements to be made and to ensure availability.
Check flights, get the best deals and compare prices with Google Flights. You can also read what other travelers have to say on the Belize travel forum.
Now, on to the deals…
[tabs style="2″]
[tab]
[tab_title]Accommodations[/tab_title]
Banana Beach Resort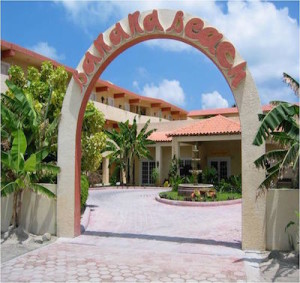 Save 10%
Banana Beach is located 3/4 of a mile from San Pedro Town center at Mar de Tumbo Beach on Ambergris Caye. Accommodations consist of one and two bedroom standard rooms and one, two, three and four bedroom suites with full kitchen and living room. With a private beach, 2 freshwater pools, and generous staff, Banana Beach Resort is the perfect choice for a great Caribbean getaway. See what a relaxing getaway at Banana Beach is like.
Banana Beach Website Banana Beach TripAdvisor Reviews
Mayan Princess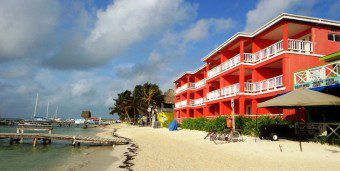 Save 10%
All rooms offer an ocean view from their very own private balcony. Rooms are furnished with a wide range of practical amenities, and all include a well-equipped kitchenette. This hotel offers free airport pick ups and complimentary WiFi. It is mere footsteps away from two of Ambergris Caye's water taxi services. Children under 12 stay for free.
Mayan Princess Website</span< Mayan Princess TripAdvisor Reviews
Pedro's Hotel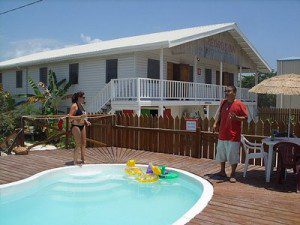 Save 10%
Pedro's Hotel is just a 5-minute walk from downtown San Pedro. Designed for the budget-minded traveler, Pedro's affordable accommodations allow guests to enjoy all the excitement and adventures Belize has to offer with 32 Rooms starting at $55 US per night. Access to Caribbean Villas Beach and one free slide on El Diablo.
Pedro's Hotel WebsitePedro's Hotel TripAdvisor Reviews
Sunbreeze Hotel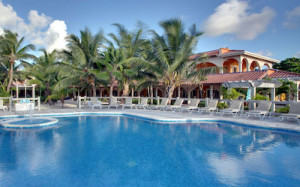 Save 10%
Located directly across the street from the Tropic Air Terminal, Sun Breeze Hotel offers many conveniences. It is located in town and only minutes away (walking on the beach) from many shops, restaurants and bars. The beach view swimming pool and deck are an added feature. The Blue Water Grill Restaurant is conveniently located on the grounds as well. Free WiFi.
Sunbreeze Hotel WebsiteSunbreeze Hotel Trip Advisor Reviews
Sunbreeze Suites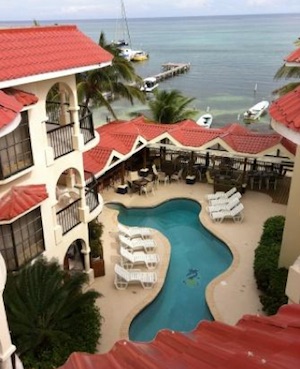 Save 10%
This beachfront condo self-catering resort is located in town, just north of many local favorite entertainment centers, cafes, and Belizean art galleries. The U-shape structure has the units overlooking the swimming pool area and all have an ocean view. Jambel's Jerk Chicken restaurant is on site. Free WiFi in common areas.
Sunbreeze Suites Website</span Sunbreeze Suites TripAdvisor Reviews
Caribbean Villas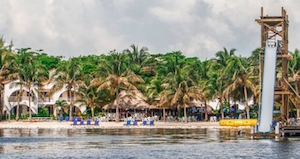 Save 10%
Caribbean Villas Hotel is a 10-minute walk along the beach to San Pedro downtown. The grounds feature 2 swimming pools and a hot tub. Amber Bar and Grill is also onsite. The resort features San Pedro's only water slide – El Diablo. Free WiFi.
Caribbean Villas Website</span Caribbean Villas TripAdvisor Reviews
Blue Tang Inn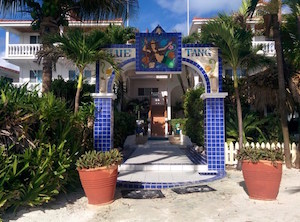 Save 10%
All suites are air-conditioned and have fully equipped kitchens and large windows in each suite. Their third-floor suites have hardwood floors, vaulted ceilings, and Jacuzzi bathtubs.
Blue Tang Inn Website</span< Blue Tang Inn Trip Advisor Reviews
[/tab]
[/tabs]
For more great savings on food and shopping go to my Food and Shopping Coupon Code page.
If you would like to offer a tacogirl special please email me at tacogirlbelize@gmail.com for details.
Disclosure: This post contains affiliate links which means I may earn a commission if you make a purchase. My opinions are my own and I only share what I believe you'll find helpful. You won't pay anything extra but it helps to support this website so I can continue to publish helpful content. Thank you!