Loving chef Claire from Jolly Roger Beach Bar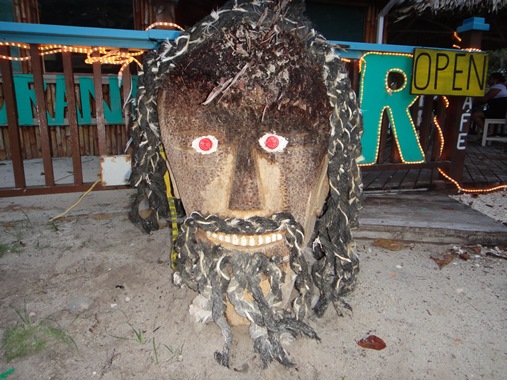 Where does the time go? I had thought I would be finished this post hours ago but just got started after catching up doing an important 'Welcome Back' thread on AmbergrisCaye.com and sending into and invites to the local papers to cover the event. The San Pedro Belize Red Cross is very excited to welcome back Bandage international for another 2 day extensive first aid training course. We are also pleased to announce that so far the following businesses in the first aid program are sending staff: Victoria House Resort, South Ambergris Caye Neighborhood Watch, Romantic travel Belize sponsored by tacogirl.com, Consolidated Water and Grand Caribe. If you want more information about the course, how you can send staff, yourself, or sponsor someone just click the bold type link above and all the details and contact info are listed.
While here Bandage International will also be doing training on behalf of the Belize Red Cross at La Loma Luz hospital in Santa Elena and Toledo community college Punta Gorda.
San Pedro Belize Red Cross and Bandage international would like to thank the following local businesses for their contributions: Maya Island Air, El Divino Restaurant at Banana Beach Resort, Victoria House Resort, Royal Caribbean Resort, Ultimate Golf Carts, Carts Belize. Belize Red Cross and Bandage international would like to thank Martha's guest house, Williams shuttle, Sacred Heart College and La Loma Luz hospital in San Ignacio and Coral House Inn Punta Gorda.
Now that I got that out, back to the original topic at hand. I am totally loving chef Claire from Jolly Roger Beach Bar located in north Ambergris Caye, just across the bridge. I did not put in a food order last week because I was up at El Secreto Resort for 2 days of First Aid Training. This week I was more that ready to catch up.
I went up on Monday with Mary and a big cooler full of empty containers. Claire said she could probably have it done the next day but if I was willing to wait till Wednesday it would be better in case she needed to get some ingredients. Other than extra hummus and baba ganouch, I told her to surprise me and cook what ever her heart desired. She said my order would be ready at 4:00 pm and she would call me when it was ready to pick it up.
Wed morning around 11:00am I got a facebook pop from her neighbor Michelle saying my order was done already and I could come get it anytime. I called Claire on her land-line and asked her to fridge it as I could not get north till the afternoon anyways. That is another thing I love about Claire, she has no computer and no cell phone – somewhat envious she is so tech free, I miss those days.
When we got there Steven put the cooler on the back of cart for me and said if I had any questions just let Claire know. I did not realize how heavy it was till I was back home and unloading it, tacoboy said that was a good sign. It was like Christmas morning opening the cooler to see what was inside. We found beef stroganoff, split peas and ham, a chicken dish, tabbouleh salad, 2 containers of humus, baba ganouch, ratatouille and some rice. Cost of the food was $150 bzd well worth it, Claire putting healthy ingredients and her good energy into it – priceless. After seeing the picture, Jane West long time visitor to Ambergris Caye and coauthor of Mmm Taste this food blog agreed Claire is a great food option. Michelle says we are a match made in heaven 🙂
Even with all the delicious food that we got and having already eaten dinner, I still managed to polish off half a meat lovers pizza at Pedro's trivia last night. Needless to say I am ab free right now, time to get hula hooping and get them back again 🙂